GJS GEIO FPS Battle Bot with Visual Recognition (Red/Blue)
GJS GEIO gaming robot
What is it?
GEIO is an innovative gaming robot equipped with an intelligent visual recognition system. It is capable of high-speed mobility and includes a flexible biaxial battery which allows for more game modes. "It adds a powerful long-range unit to the [mechanized battlefield]. Its small size does, however, not impact its power."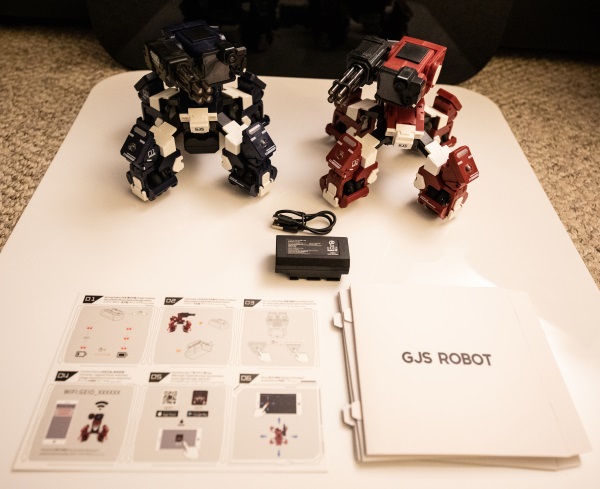 1 x GJS Battle Robot (2 were provided by the manufacturer for this review)
1 x Micro USB Cable
1 x Rechargeable Battery
1 x Instruction card
4 x Totem Game Cards
Design and features
Features

Specifications
Size: 170mm x 170mm x 160mm
Weight: 730g
Turret Angle – Horizontal: 0-160°
Turret Pitch: 0-90°
Material: Aluminum Alloy, ABS
Battery: 7.4V 2000mAh
Supported Mobile Phone System: iOS / Android
Camera Resolution: 300,000 pixels
Visual Identity Range: 50cm-2m
Internal Sensor Infrared Sensors: Magnetic Sensor
Connectivity: WIFI
Operating Frequency: 5GHz
Maximum Transmission Distance: 70 m
The GJS Robots are well designed and very attractive. They have built-in LED lighting all around their frame and they are well built. They utilize Totem cards as a part of some of the games to give gain weapons and health, etc and they actually have the ability to read the cards. The various pictures below highlight some of the design features.